Home
Program
Award
Invited speakers
Paper committee
---
Call for papers
Important dates
Submission
---
Registration
Venue
Traveling & Lodging
Social event
---
Sponsors
Contact
1st Symposium
2nd Symposium
3rd Symposium
Traveling to Cagliari
You can reach Cagliari by air from the main Italian cities with direct flights, there are a dozen flights per day to and from Rome and almost the same to and from Milan. Check the Cagliari airport site for more info, included the bus timetable to and from the airport.

There are two other airports in Sardinia you may want to use to get low-cost tickets: Alghero and Olbia. Logudoro tours links Alghero airport to Cagliari once a day in 3 hours and a half. To and from Olbia one can travel by train using Trenitalia, on average the trip last 4 hours.

Origins and airlines for low-cost flights:

At symposium time you can also find charter flight to Cagliari and the other two airports.

If you prefer to travel by ship, maybe driving your car, you can reach Cagliari overnight from Civitavecchia (nearby Rome) with Tirrenia. More choices available if you land to Olbia, Golfo Aranci or Porto Torres, with Tirrenia, Moby Lines, Sardinia Ferries and Grimaldi.
Accommodation in Cagliari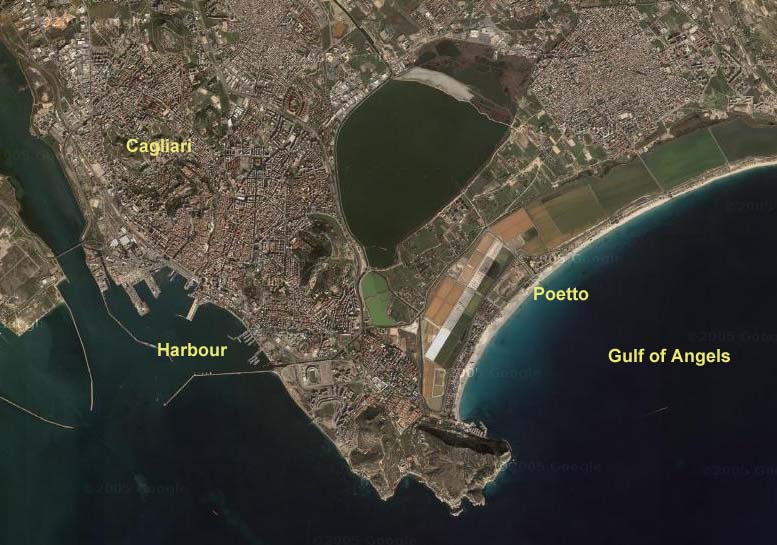 Hotels
Hotel Mediterraneo is by far the closest to the conference site (across the street from the CIS auditorium) but one of the most expensive in town, not a good choice for who is travelling on a budget. Hotel 4 Mori is newly refurbished and located nearby the historical part of Cagliari, not so expensive (60 euros) could be nice if you stand the noise of the street. Anotther good choice, considering position and rates is Hotel Italia in the Marina quarter, the part of the town where you can find lot of restaurants and night life. If you are looking for something more trendy you may want to go to Caesar's Hotel or to the brand new T Hotel; they are both not so close to the conference site but at less than half an hour walking. Hotel Regina Margherita and Hotel Panorama are two other hotels you may want to check for.
Making your reservation ask always for the special rates for University of Cagliari guests, most of the hotel will give you a small discount on this basis.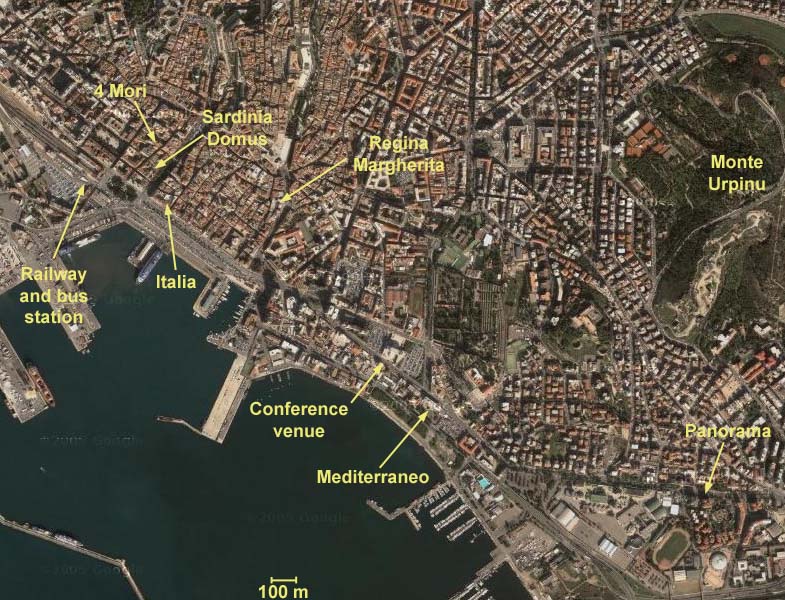 Bed&Breakfast's
The best site by far is bed-and-breakfast.it where you can find all the b&b in Cagliari; it uses Google maps to locate the b&b. Have a list in Italian to get also the min and max price (not available in English, no guess why).
Tips: If you are looking for a place with ADSL in every room you may want to book at Sardinia Domus; it is a brand new b&b, a little more expensive than average but it should be worth the price. If you are willing to stay close to the seaside, Mistral, Il profumo del mare, Lewis and Poettando are right on the beach at Poetto (no more than 15 minutes by bus to and from the conference location). End of June in Cagliari is already quite hot and the water in "Gulf of Angels" is gently warm to allow swimming at any time of the day.
Use the links to the hotels and b&b sites to get up to date rates, contacts and directions. For any further question do not hesitate to contact the organizers.