The fourth Eurographics Symposium on Geometry Processing 2006 is now finished. It was held on June 26 to 28, 2006 in Cagliari on the beautiful island Sardinia.
The goal of the meeting was to present and discuss new research ideas and results in Geometric Processing. This emerging research field aims at designing efficient algorithms for acquisition, manipulation, animation and transmission of complex 3D models. The processing techniques are based on recent developments in applied mathematics, computer science, and engineering.
The proceedings were published in the Eurographics Proceedings Series, in cooperation with ACM SIGGRAPH and are available at request from A.K. Peters. The symposium followed the highly successful series of Symposia on Geometry Processing in Aachen (2003, Germany), in Nice (2004, France), and in Vienna (2005, Austria) and preceeds the Fifth Symposium that will be held in Barcelona (2007, Spain).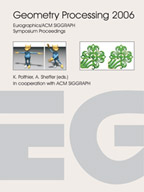 Table of contents
Now available the Poster Proceedings, download them here.
Thanks to whom made this event a successful and amusing meeting!